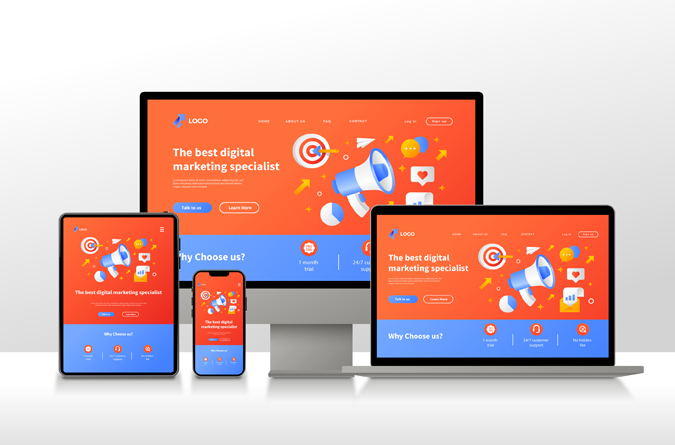 Currently, every startups or the business owns their own website, which delivers complete information and their brand identity. And that identity creates an impact on the audience review to go for the collaborations of businesses. Moreover, it enhances the brand with B2B & B2C reach. When it comes to the website, to make the audience stay on it, you need is an eye-catching concept and design,. For that, you need a perfect assistance from the expertized group of web developers and designers.
Website designing company near me
Are you in search of website designing company that is near you? If you're in Delhi, then look no further, Magic Pencil is the best website designing company where your brand will stand out from sea of competitors.
At Magic Pencil, you will be provided with eye-soothing or should we say eye-catching website designs that are planned and executed by a team of members whose brainstorming in creative and concepts are commendable. Our experts of designers and developers will make sure that you will get a customized website according to your vision and the mission of your brand.
We got the fact that your business is unique. Therefore, we understand and take time in turning your business goals and target audience with great creativity and drives traffic and conversions of your website.
The services that we provide to sure the best for your brand are:
Custom Website Design: We transforms brand identities into customized websites that are surely visual appealing, user-friendly and are optimized for search engine tools. All the designs are related on the ongoing trends and technologies that ensures your brand website one of its kind when it comes to the website design.


Responsive Website Design: Day by day, the mobile device consumption are being increased and to have a responsive website, we generates best and unique websites for you to experience and access from any device.


E-Commerce Website Design: We also specialize in creating e-commerce websites that are secure, user-friendly, and optimized for sales. Our designs are tailored to your specific business needs and can help you increase sales and revenue.


Website Redesign: If you already have a website but it's not performing as well as you'd like, we can help. Our website redesign services can help you improve the look and feel of your website, optimize it for search engines, and increase conversions
We believe in providing high-quality website designing services that deliver results. If you're looking for the best website designing company in Delhi or anywhere in India, contact us today for better consultations with experts at Magic Pencil.